Gilmer Public Library is located in and sponsored  by the City of Glenville. The City of Glenville is an example of a rural community with values of a small town. We feel in this informational age, it is critical our citizens are well informed.
GPL receives funding from the West Virginia Library Commission and from Gilmer County Levy Funds. Gilmer County in central West Virginia, like many other counties, is located on the Allegheny Plateau. It is known for its oil and natural gas wells, livestock, fruit, potatoes, corn, and timber. Gilmer County is home to Glenville State College and the West Virginia State Folk Festival.
GPL is a member of West Virginia's Northern Library Network. Patrons of Gilmer Public Library can use the Inter-Library Loan system to borrow items from any library included in the network, including Morgantown Public Library, Clarksburg Public Library, or Glenville State College's Robert F. Kidd Library, among others.
A Board of Trustees provides oversight for the operations of Gilmer Public Library. Board Meeting agendas are posted on our Community Bulletin Board inside the library and in our News Section of this web site. Board meetings are open to the public.
Gilmer Public Library cooperates on projects regularly with Friends of Gilmer Public Library, Gilmer County Historical Society, and other groups within the county. We sponsor three festivals a year: our spring RetroFest, Fall Literary Festival, and December Winter Fest.
GPL also offers free classes and programming including monthly Book Club, Writer's Group, Embroidery Classes, Craft Classes, Creative Play for Adults, and more. Our Summer Learning Programs include: Build & Grow, Read Alouds, Adult Quiet Time, Story Time from Space and more.
Little Libraries
Gilmer Public Library serves Gilmer County and surrounding areas. We have built and donated little libraries to the communities throughout the county, including Rosedale, Normantown, Tanner, Linn, Glenville, Sand Fork, and Troy. Feel free to take books or donate books to these community outlets.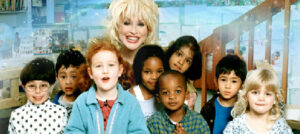 Free Books for Young Children
We are also the county sponsors of Dolly Parton's Imagination Library.
Founded in 1996, the Dolly Parton Imagination Library is a non-profit organization that gives hundreds of thousands of books each month to registered children in participating communities all over the United States and Canada. Imagination Library is designed to provide free, age-appropriate books monthly to all eligible children in specified counties. Children birth to 5 years old are eligible. Come in to register your child to receive these free books!